Durante estos días estaremos mostrando parte de los mazos que sin duda nos acompañaran durante la temporada que esta apunto de comenzar. En esta ocasión comenzaremos con uno de los gremios que creemos será parte del metagame MTG STANDARD con el lanzamiento de la nueva edición GUILDS OF RAVNICA.
Para comenzar mostraremos algunas de las mejores cartas y combinaciones de este poderoso gremio que lo hacen un candidato mas que seguro para ser parte de los mazos mas jugados de esta temporada.
A nuestro gusto, una de las mejores cartas de este gremio y de la edición GUILDS OF RAVNICA es Tajic, Legion's Edge . Por 3 manas tenemos un 3/2 con prisa y mentor lo que ya es bastante eficiente, pero el punto principal de este muchacho es su habilidad continua que detallaremos a continuación "previene todo el daño "NO" relacionado con el combate que se a las criaturas que controlas". Esa última parte puede parecer un poco aleatoria y ajustada a Tajic, pero tiene dos cosas muy importante.
Contrarresta en en gran parte la habilidad de Goblin Chainwhirler para barrer nuestra mesa de criaturas 1/1 que como veremos mas adelante son fundamentales en este mazo .

2. Se combina maravillosamente con Deafening Clarion lo que nos permitirá poder limpiar la mesa oponente y quedar con todo nuestro campo intacto.
Legion Warboss es casi una reimpresión de Goblin Rabblemaster y por supuesto sabemos que esta carta es capaz de aterrorizar a Standard en los próximos meses o mientras este en el formato ya que de seguro lo veremos en playset en los todos los mazos con acceso a rojo.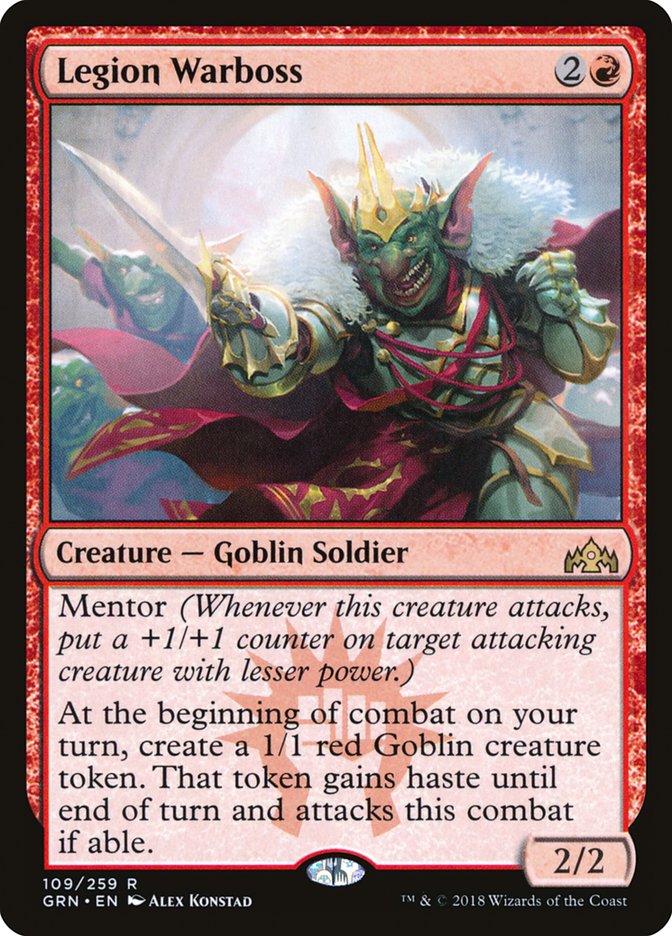 Tajic y Aurelia forman la columna vertebral del gremio de Boros ya que entrar en curva con cualquiera de los dos (si es ambos mucho mejor) es un comienzo increíblemente poderoso, y ante un rival sin respuestas rápidas será seguramente un match ganado. Por otro lado como probablemente Boros busque un juego rápido y partir atacando par aprovechar las cartas con mentor entre otras cualidades del mazo Integrity es un "truco" de combate que por un maná nos permite que nuestras valiosas criaturas (como Tajic) ganen en combate. Una vez que tu oponente se estabilice, puedes usar la Intervención para prolongar el juego o incluso para rematar a un oponente herido.

BOROS MIDRANGE
Criaturas (24)
Tierras (24)
Hechizos (12)